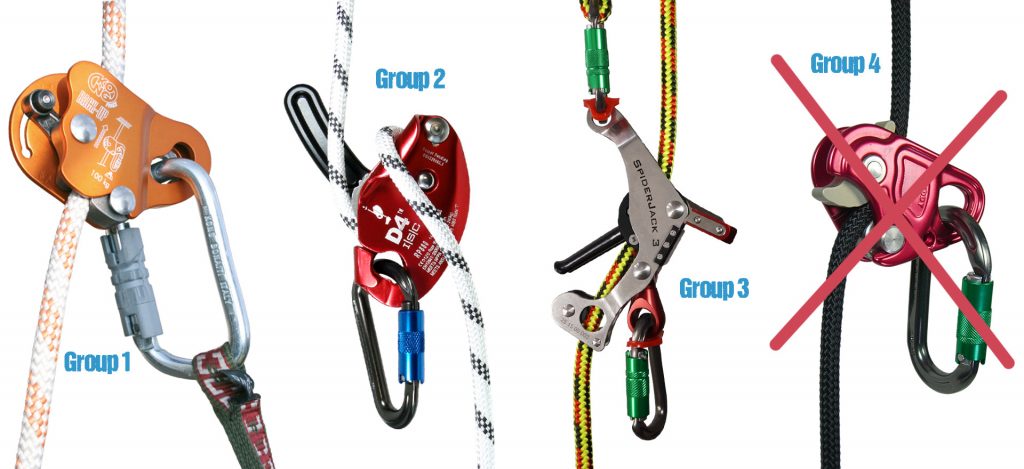 What is the fastest and most effective way to get up in the tree? There are as many answers to this question as tree climbers. When it comes to the ascent, every climber has his own philosophy: Single Rope Technique (SRT) or Doubled Rope Technique (DdRT)? Prusik or mechanical device? Which knot – which device? Which technique? And these are only some of the many questions that have to be answered before ascending.
Of course, we don't have the final answer. Everyone has to decide for themselves. Yet there are some basic facts and figures about ascending with devices. With this information, you can choose the technique that best suits you and the particular working situation. In the following we have summarised these basic facts for you.
We have classified the various rope devices into four groups – depending on the certification standard of the device. This in turn depends on the construction of the device and the way it grabs on the rope.
Group 1
devices: CAMP Goblin, Kong Back-Up, TAZ Lov 2*
certified according to EN 12841-A: rope adjustment devices
move freely on the rope
approved for Single Rope Technique (SRT)
ascent with knee and foot ascender
technique: rope-walking freehanded
descent only possible with modification
state of the art: ergonomic, fast, efficient
Group 2
devices: Petzl Rig, Petzl I'D, CAMP Druid Pro, Skylotec Lory Pro, CT Sparrow, ISC D4 Descender, TAZ Lov 2
certified according to EN 12841-C: rope adjustment devices
must be actively moved
approved for Single Rope Technique (SRT)
ascent with hand ascender and footloop
descent possible at any time without modification
standard (also in industrial climbing): less efficient than group 1, but good alternative; less practice required
* Outlier: TAZ Lov 2
certified according to both standards; works for both ascent types thanks to an innovative rope guide and blocking within the device
Group 3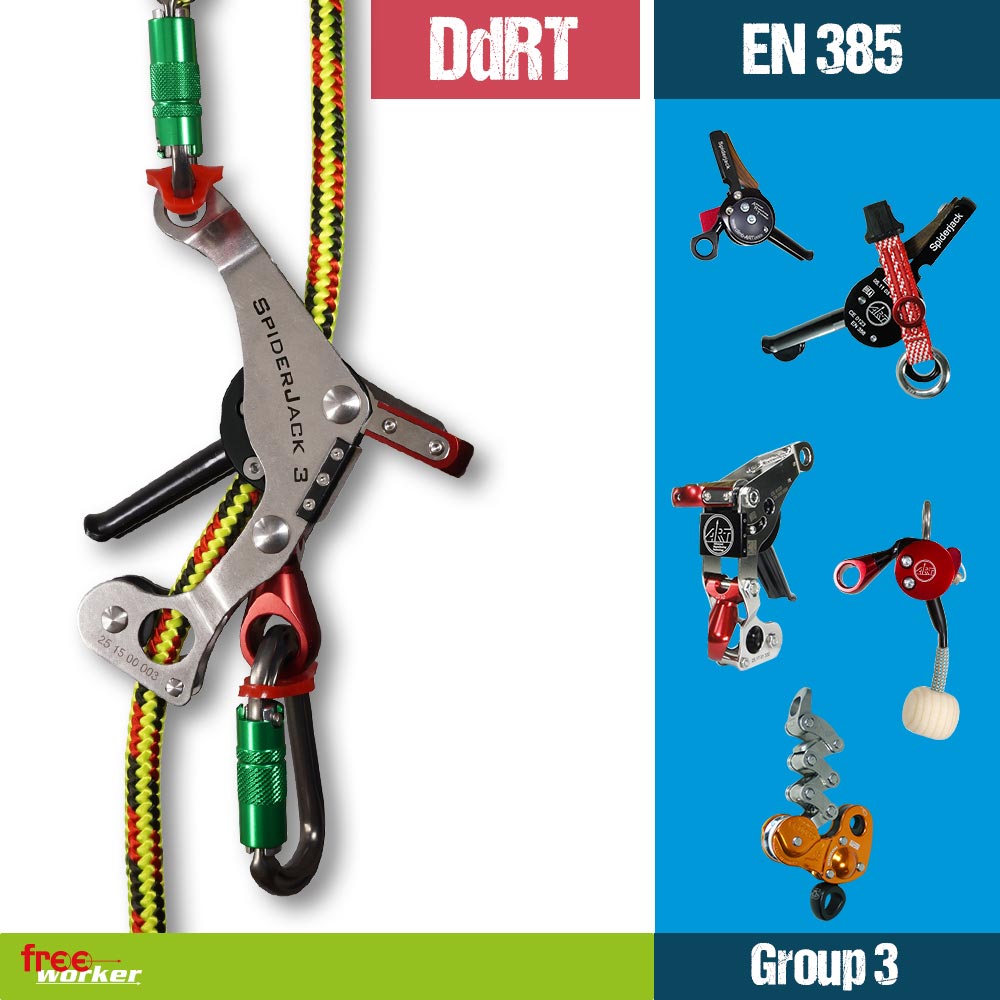 devices: ART SpiderJack, ART LockJack, Petzl ZigZag (+ Prusik)
certified according to EN 358: lanyards for work positioning or restraint
exception ZigZag: only CE certified
approved for Doubled Rope Technique (DdRT)
ascent with e. g. foot ascender
technique: body thrust technique, footlock, rope-walking
premise: friction saver has to be installed from the ground (advantage of the ART RopeGuide TwinLine)
a bit out of fashion: high energy consumption, not very ergonomic; suitable for special applications (e.g. felling with anchor point in adjacent tree)
Group 4
device: DMM Buddy BUD
certified according to EN 353-2: guided type fall arresters
similar to group 1, but not suitable for ascent!
reason:

rope end may only be loaded with 1 kg max., otherwise blocking will not work
foot ascender tensions the rope and charges it with more than 1 kg
rope slips through the device, because a redirect of the rope within the device is needed for blocking