According to the German Battery Act (BattG), distributors selling batteries or accumulators, have to give the consumer the following information:
Some of our products are delivered with accumulators and/or batteries. You are not allowed to dispose used batteries and accumulators into the general waste. You can return them to collecting points, to a local dealer or to us. You are obliged by law to dispose them properly.
Contaminant-laden batteries are marked with the following figure and the chemical symbol of the respective heavy metal (Cd/Cadmium, Hg/Mercury or Pb/Lead):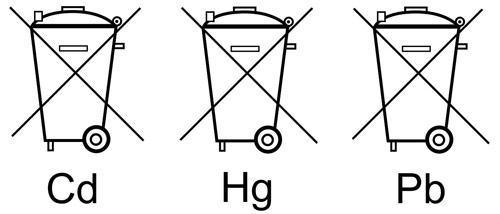 Because batteries and accumulators contain also valuable resources, you help the environment by disposing them properly. Included iron, nickel, manganese and zinc can be recycled.
If you have no collecting point nearby and want to return used batteries to Freeworker, please send them to:
Freeworker GmbH
St. Gilgen 15
D-82205 Gilching
Germany
When you return used batteries to us, we refund the postage for letters.