Tree bracing is part of modern tree care. Particularly in case of special tree locations in urban areas or unique natural monuments, the systems have their advantages compared to other tree care methods. These technical systems prevent trees from collapsing. Since the first tree bracing systems made of steel strapping, materials and methods have changed thanks to scientific research. This is in the best interest of the trees and simplifies the work of the tree climber during assembly.
Content
When does tree bracing make sense?
In general, trees on streets, in parks or urban areas must be kept safe and cared for by regular pruning and tree care. When planning a construction site, every arborist should already check if he is able to achieve the desired result with targeted pruning – before setting up a tree bracing system.
Tree bracing It is used in the case of unstable and broken trees under special circumstances or for other exceptional reasons. A combination of pruning and bracing is also a common practice.
Requirements for tree bracing systems
Those who work according to the guidelines of the ZTV-Baumpflege (german guideline for tree care standards) must pay attention to certain aspects. Not all tree bracing systems on the market are ZTV-compliant. However, many arborists rely on the certified systems. ZTV-compliant systems meet the following requirements:
All materials, components and systems must work for at least eight years and the metal parts must be protected against corrosion.
They must not change due to weather or other influences.
The systems adapt to the growth of the trees, do not restrict them or can be adjusted accordingly.
Embracing ropes must transfer the pressure to a wider surface when embracing a branch or stem.
The manufacturers confirm that the system is suitable regarding breaking load, elongation behaviour, loss of strength over time and absorption of continuous loads.
System breaking loads refer to the system and not to individual materials.
Materials used for tree bracing systems
Especially in case of material, tree bracing systems have developed over the past decades. Whereas arborists started with steel strapping, iron rods and metal bolts, modern tree bracing is made of light- and weather-resistant plastics that are particularly durable.
The problem with the old systems, which were nevertheless innovative for their time, was that they corroded quickly. They easily grew into the bark or the wooden body and caused wounds – perfect entrance for wood-decaying fungi.
Elongation and tightened ropes
It is not unusual for arborists to observe in the field that ropes between stems tighten over time. There are different reasons for this. The load of the leaves is enough to change the position of a branch in summer compared to winter and tighten the ropes. The annual growth of the stems and branches also changes the statics of the tree. As a result of intensive water exposure, polyamide ropes literally shrink.
Current tree bracing systems have a specific elongation capacity – except for Dyneema fibres. The more force applied, the greater the elongation. At the same time, the ropes do not or hardly stretch under low loads. The product-specific elongation of 12 to 25 percent is only effective in heavy winds or other forces. In case of long connections there is a danger of too much "path in the system". In heavy storms, the ropes quickly overstretch.
Synthetic ropes under permanent load are subject to creep. This leads to the risk that a tree bracing system may initially support a breaking, heavy branch but later still will fail under the load of the branch. The rope filaments expand slowly under the load until they exceed the elongation limit and break. This is not the case with the stiff, rigid Dyneema ropes. As static ropes with extremely low elongation, they are better suited for continuous loads. However, Dyneema ropes absorb or tolerate little or no impact.
Material fatigue
Plastic ropes fatigue under recurring stress. A rope that has withstood up to 80 percent of its breaking load three times can already fail under the same load for the fourth time. Arborists therefore replace systems after high stress. It is difficult to judge from the ground if a tree bracing system was actually exposed to high loads. If there is a justified doubt, the arborist may have to climb and check the system. Indications of high loads are, for example, permanent deformations of the extension inserts. Other systems use indicator filaments which tear at a load defined by the manufacturer and can be recognized immediately.
Creep strength
All objects that are exposed to the elements will degrade, age and lose their load capacity. Investigations by SCHRÖDER (1996) showed that PPE ropes showed surprisingly high strength losses despite theoretically good UV stability. In five years it will be up to 60 percent. Studies on PP ropes by BRUDI and SPIESS (1998) have shown that the load capacity of the ropes decreases by an average of ten percent after five years of use.
The manufacturers of tree bracing systems must guarantee the breaking strength of the ropes over a period of at least eight years within the scope of the ZTV-Baumpflege. This means that a 4 ton rope must have an initial breaking strength of at least 4.7 tons in order to fulfill its function for eight years. Some manufacturers even grant the breaking strength beyond this time.
Modern materials
There is a large range of plastics available for the components of tree bracing systems. Polyester are abrasion-resistant, dimensionally stable and resistant to weather and the elements. They do not creep and are suited for permanent loads. Polyamide has a high strength and stiffness and hardly wears out. The elongation at break is extremely high, but moisture changes the characteristics.
Polyethylene has a low weight and low elongation at break. It is tension- and abrasion-resistant as well as resistant to solvents and petrol. The lightweight polypropylene is dimensionally stable, tension-resistant, abrasion-resistant and durable. It is heat-, wind- and weather-resistant. However, it becomes brittle under 0 °C.
Shock absorber
Shock absorbers give the system dynamic and static features. They act dynamically at low wind loads and statically at heavy storm loads. They absorb the elongation of the rope, slow down the opposing movements of swinging branches and reduce the final impact force by 20 percent. This prevents the karate effect, which causes the branch to break above the system's attachment point. With shock absorbers, a tree bracing system can be adjusted smoothly and the movement of branches can be controlled.
Tree bracing types
Modern tree bracing works damage-free. In other words, the arborist applies the system to the tree without damaging the bark or the wooden body. In the revised ZTV-Baumpflege of 2017, harmful methods of tree bracing are eliminated.
Dynamic / static
Dynamic tree bracing systems are made of textile materials and stretch under load. They give space to the tree and allow it to form reaction wood. This enables it to counteract static defects itself. Dynamic tree bracing systems only prevent the branch from breaking in extreme conditions. Static systems do not stretch or stretch only minimally. In tree care, they are used specifically when there is a high risk of breakage by using low-stretch ropes without shock absorbers. The tree, or the secured part of the crown, can hardly move or form any reaction wood and can no longer repair itself.
Breaking or support cabling
As the name suggests, breaking cabling ensures that no endangered crown parts break out. In contrast static support cabling holds the endangered crown parts even after rupture. They are only used if pruning is not possible or desired or if dead stems shall be preserved for nature conservation. The ropes should be low-stretch and strong enough not to tear under the load of the branch.
Single-component or multi-component cabling
Single-component cabling uses the same material all around to connect tree and stems. However, it consists of different parts and materials. Multi-component cabling works with fastening loops and connectors as independent parts. The loops are often a prefabricated webbing or loop connected to a hollow braid.
Which breaking loads must the systems withstand?
In order to perform properly, a tree bracing system should have a sufficient minimum breaking load. Except in individual cases with exceptional loads, ZTV-Baumpflege recommends the following dimensions for dynamic tree bracing:
| Diameter of branch/stem | Minimum system breaking load |
| --- | --- |
| up to 40 cm | 2,0 t |
| more than 40 up to 60 cm | 4,0 t |
| more than 60 up to 80 cm | 8,0 t |
| more than 80 cm | case-by-case decision |
The diameter of the branch/stem during assembly of the system counts. In case of static tree bracing, which immobilizes one part of the tree, the values must be doubled. The ropes may stretch by a maximum of five percent.
Tree bracing systems available at Freeworker
At Freeworker we offer various tree bracing systems. Our technical support (Tel.: +49 (0) 8105 – 27 27 210 or e-mail: info[at]freeworker.de) will be pleased to inform you about the advantages and disadvantages of the individual systems and help you to choose the appropriate one for your needs.
Boa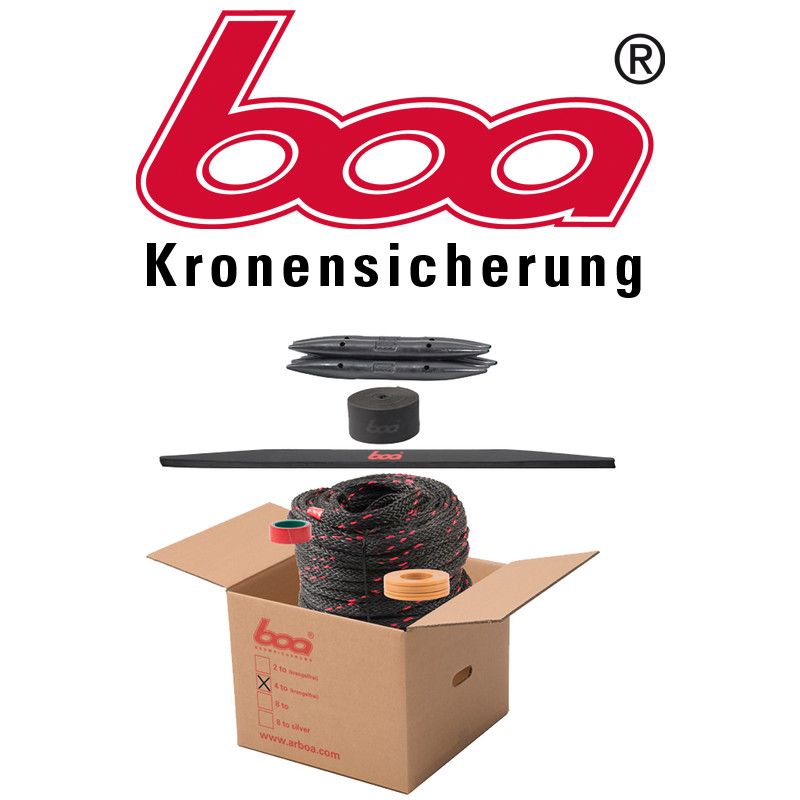 The individual components (shock absorber, anti-abrasion, expansion insert etc.) of the Boa tree bracing system work with all three rope diameters. The system is made for a service life of twelve years.
cobra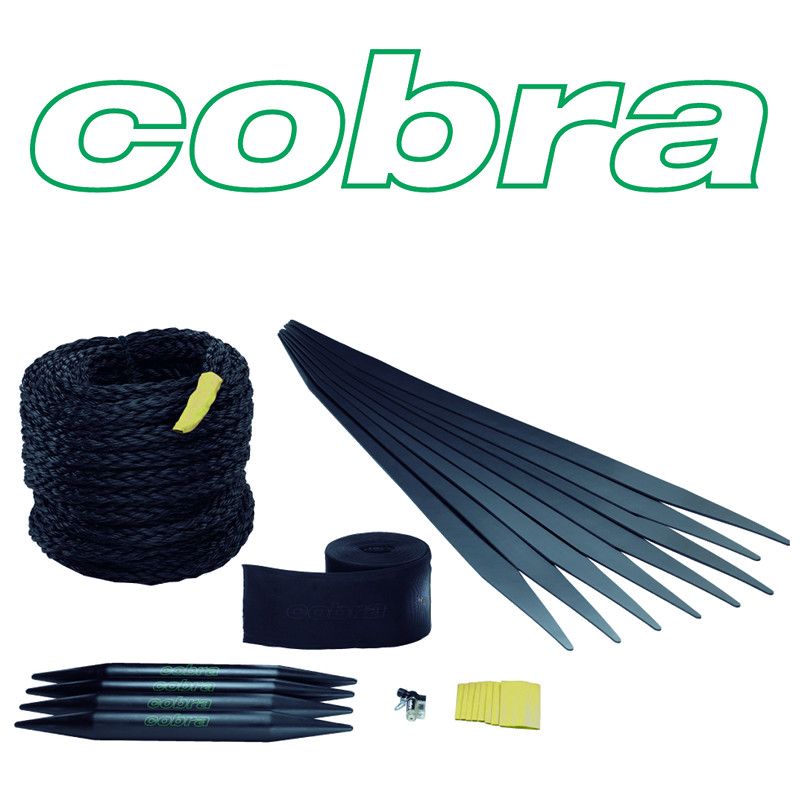 cobra products have been in use since 1994. The rubber shock absorber provides soft load absorption when the branches swing slightly. cobra is a versatile tree bracing system that can be used both dynamically and statically.
Tree save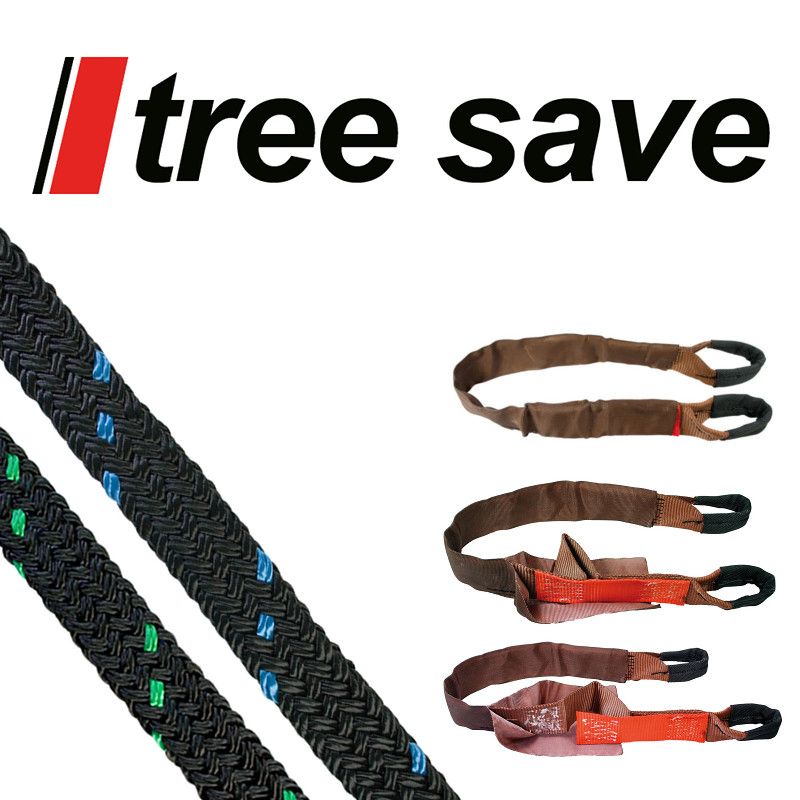 This system was developed in close collaboration with arborists and features an overload indicator. In case of overload, a seam tears without affecting the proper functioning of the system. An overload can already be identified from the ground during an inspection.
Gefa Fabritz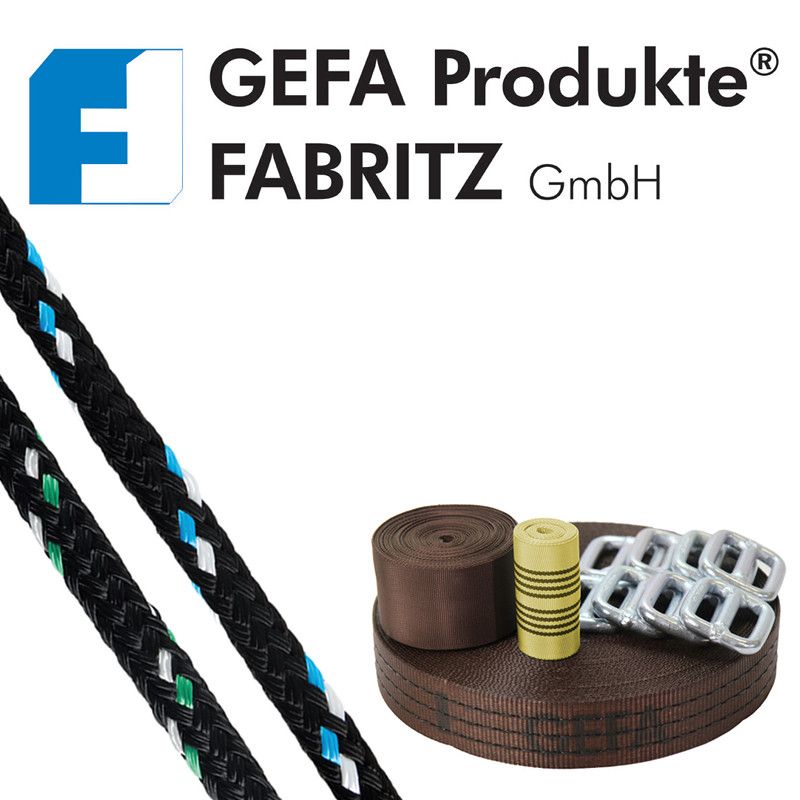 The hollow braids are made without a core, so that the braid becomes a hose and can be spliced more easily. They are also available in two types: polyester with low elongation or polyamide with higher elongation. There is also a system based on webbing.
ArboLine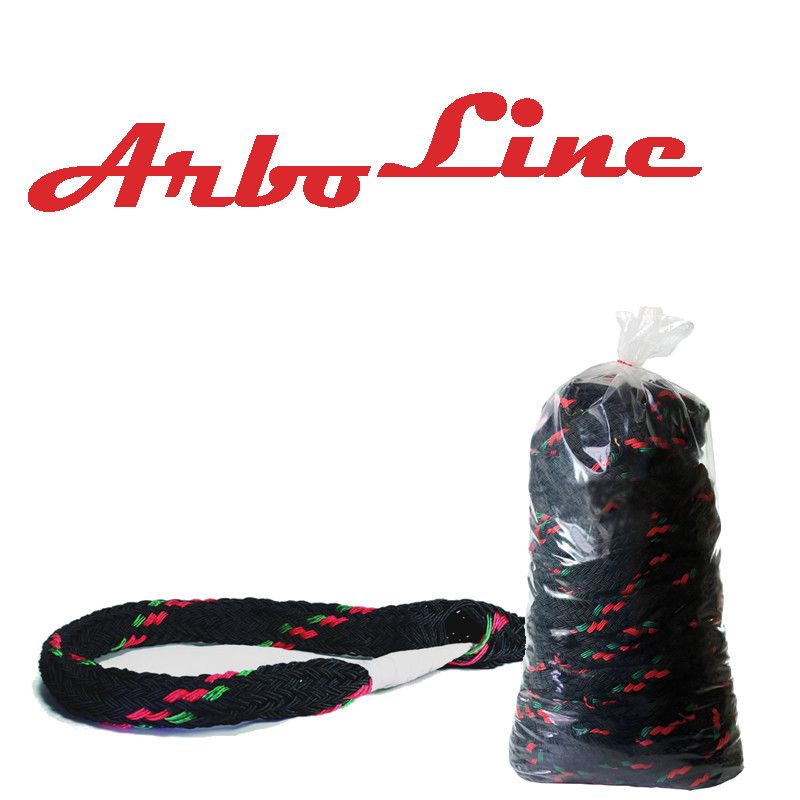 The system has high initial breaking loads for an extra large safety backup. The loosely braided ropes can be spliced by hand in the tree without tools.
Inspection
Tree bracing systems must be inspected regularly. Usually, they are installed in old trees at locations with high safety expectations or in heavily damaged trees. In these cases, the inspection interval is one year. Besides the condition of the materials, the systems must also be checked for tension or excessive elongation. In addition, they should not strangle, grow into or rub the tree. An inspection from the ground is usually sufficient. In exceptions or with open questions it is necessary to clarify it with climbing technique or cherry pickers. The colour of the annual marker, which is the same for all manufacturers, provides information about the age of the tree bracing system.
| | | | |
| --- | --- | --- | --- |
| 2015/2023 | 2016/2024 | 2017/2025 | 2018/2026 |
| 2019/2027 | 2020/2028 | 2021/2029 | 2022/2030 |
Assembly and usage
Anyone who works with tree bracing in the field should take a workshop on the basic practices around assembly, maintenance and operation of systems and tree statics. A lot of knowledge and useful tips can also be gained through experienced colleagues, with whom every future arborist should work together at the beginning. In addition, there are only a few specialist books about tree bracing.
Special case: steel threaded rods
Steel threaded rods for the stabilization of cracks in trunks and forks are not classified as part of tree bracing, but should be briefly mentioned here. They are used when a crack can no longer be effectively secured with tree bracing. The rods involve the risk of wood-decaying fungi entering the tree through the drill channel.
| Diameter of branch/stem/trunk | Minimum diameter |
| --- | --- |
| more than 30 up to 50 cm | 16 mm |
| more than 50 up to 90 cm | 18 mm |
| more than 90 up to 150 m | 20 mm |
| more than 150 cm | 24 mm |
---
Specialist books on tree bracing and sources
More articles on the Freeworker blog
---
Freeworker, Equipment for Tree Care and Rope Technology
Quick – Professional – Reliable