What is the fastest and most effective way to move around in a tree? There are probably as many answers to this question as there are tree climbers. The rope climbing technique offers arborists many possibilities: Single Rope Technique (SRT) or Doubled Rope Technique (DdRT)? Friction hitch or belay device? Which device? There are numerous rope devices for ascent or descent, for work positioning and belaying. Depending on personal preference and the technique used, other descenders, belay devices or moving fall arresters are recommended for tree climbing.
Advice
The dialogue with colleagues is an unlimited source of ideas – especially in an industry with many individual solutions. Besides, this offers the opportunity to test different devices in practice before you buy the new device. If you have any questions, please contact our customer service (☎ +49 (0) 8105 – 730 60 253): Our colleagues will help you competently with the selection of the right device and questions about its operation.
Final answers to these questions do not exist. Everyone has to decide for themselves according to their own needs and preferences. However, there are some basic facts about tree climbing with belay devices. Based on these, you can decide on the technique and the device that best suits you and your particular work situation.
Content
What standards are required for belay devices used for tree climbing?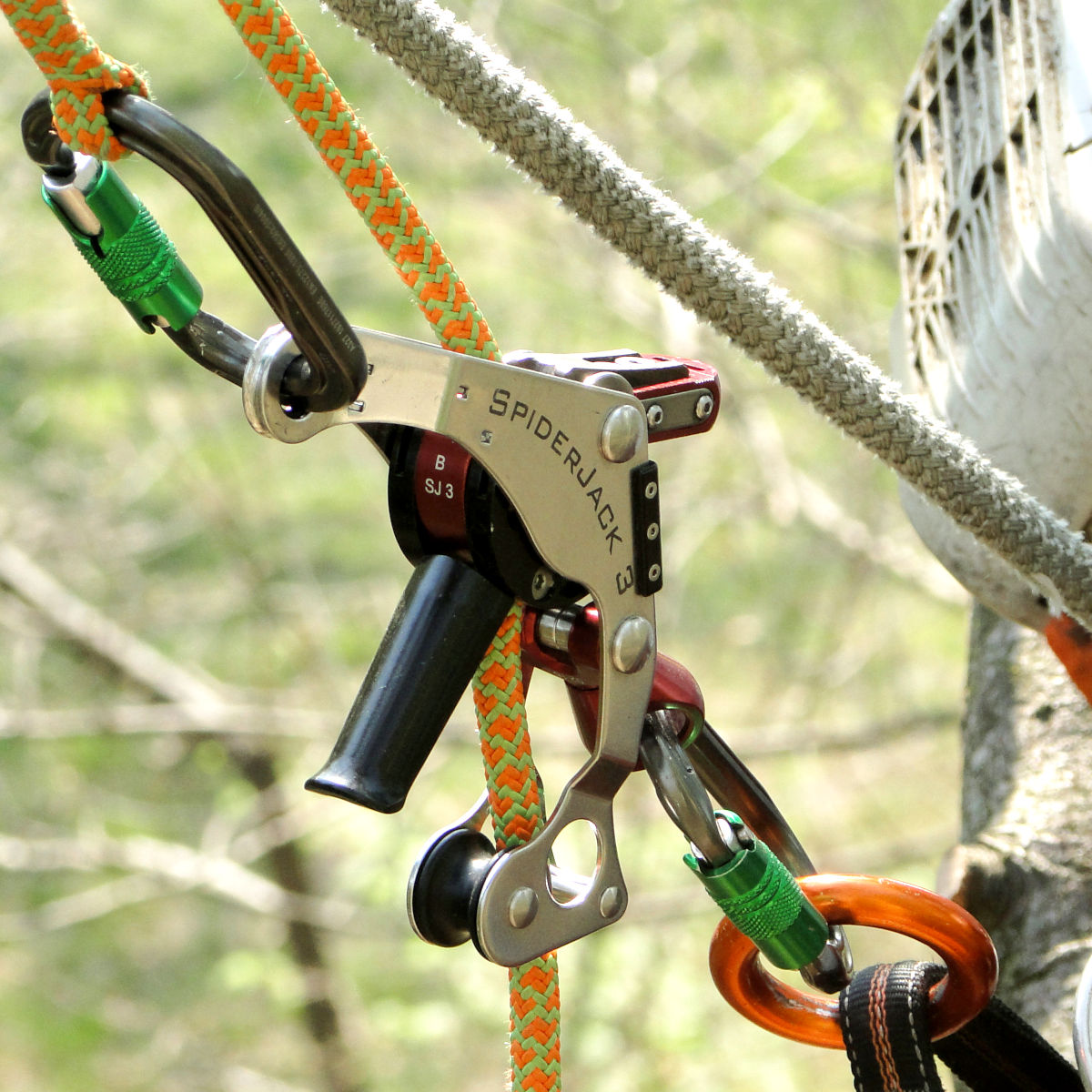 For tree climbing, rope devices shall be used in accordance with EN 12841-A and EN 12841-C for rope adjustment devices. In addition, restraint and work positioning lanyards according to EN 358 and moving fall arresters according to EN 353-2 are suitable for arborists.
EN 12841-A: rope adjustment devices
Belay devices certified according to EN 12841-A (PDF) move freely on the rope. They are approved for SRT. They are also suitable for ascent with knee ascender and foot ascender. For descending, however, you have to reconfigure. Nevertheless, many tree climbers use these rope devices for ergonomic, fast and efficient climbing.
EN 12841-C: rope adjustment devices
Belay devices according to EN 12841-C (PDF) must be actively moved on the rope. These devices are also intended for SRT, for example for ascent with a hand ascender and a footloop. In contrast to group A, with group C it is possible to descend at any time without modification. These devices are less efficient than those according to EN 12841-A. Nevertheless, they are a good alternative among standard devices (in tree climbing and also in industrial use) because they require less practice.
EN 358: restraint and work positioning lanyards
You may also use belay devices for tree climbing that are certified according to EN 358 (PDF). However, they are used, for example, for work positioning and are approved for DdRT. The ascent works, for example with a foot ascender, but it is less ergonomic and you need a lot of strength. You also have to install your friction saver from the ground. The devices in this group reveal their strengths only after ascent, when it comes to the actual tree care.
EN 353-2: Guided type fall arresters
Moving fall arresters according to EN 353-2 (PDF) are also suitable for use in professional tree climbing. They run along the climbing rope and block on the rope in case of a fall. They are suitable for work positioning with DdRT, but not for ascending. Because the rope end must not be loaded with more than one kilo, otherwise the belay device will not block. During ascent, the foot ascender tensions the rope and loads it with more than the permitted kilo. This means that if the worst comes to the worst, the rope simply slips through the device and the belay does not grip.
Belay devices for tree climbers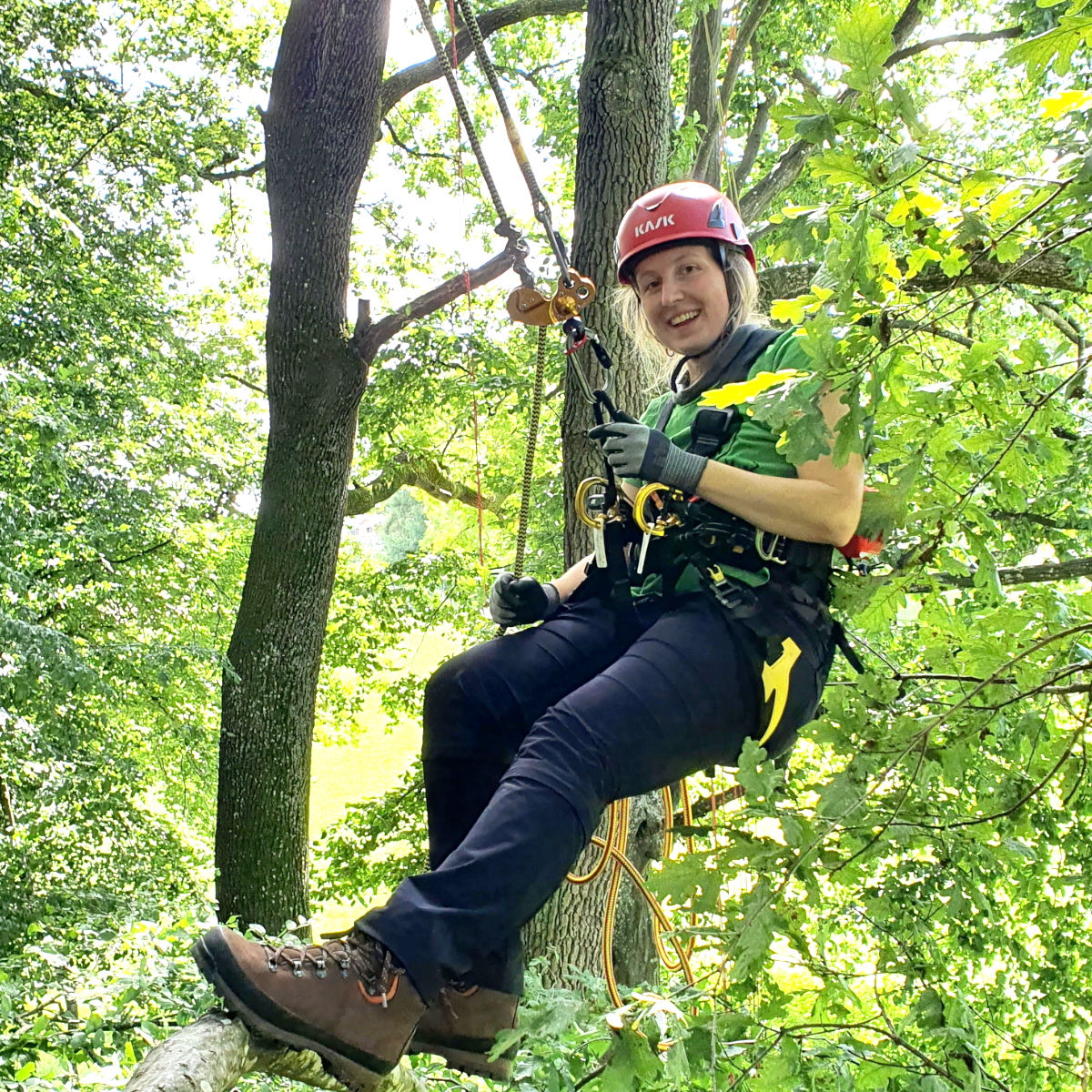 Descenders, belay devices and fall arresters are part of the personal protective equipment (PPE) of tree climbers. In case of emergency, health and life depend on these rope devices. Safety is the number one priority in tree climbing. The risk of falling or injuring oneself must be reduced as much as possible.
Arborists and tree climbers always use self-locking belay devices. This means that the device automatically blocks on the rope as soon as they slip and fall into the rope. Some of these devices also have an anti-panic function. This means that the descent is blocked as soon as you pull too hard on the lever.
Descenders and belay devices, as well as moving fall arresters, run along the rope and protect you from falling during ascent and when positioning yourself at the workplace. With a descender, you also control the speed when abseiling and lower yourself down the rope in a controlled manner.
Fields of use for belay devices in tree climbing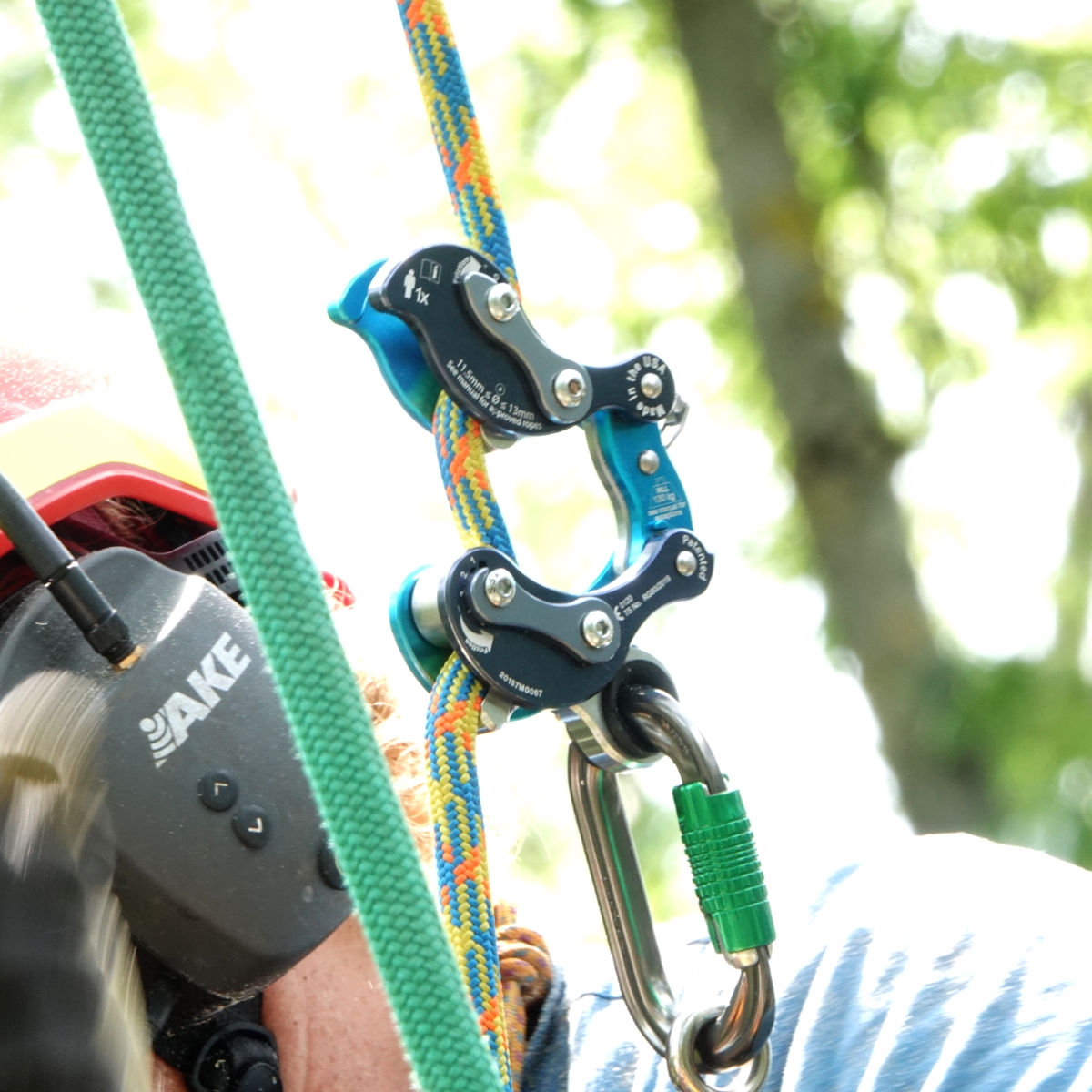 In tree climbing, you use belay devices for personal protection, ascent, work positioning, descent and rescue. Depending on the construction and certification, you may use them on a stationary rope system or with SRT and/or on a moving rope system or with DdRT. Note that not all equipment is approved for personal rescue. In addition, not all equipment that is certified according to one of the standards listed above is actually suitable for tree climbing.
Therefore, it is important to read the corresponding user manual carefully and to seek advice if you have any questions. Our customer service is available to answer your questions Monday to Friday from 9:00 a.m. to 5:00 p.m. CET at ☎ (+49 (0) 8105 – 730 60 253.
More articles on the Freeworker blog
---
Freeworker, Equipment for Tree Care and Rope Technology
Fast – Professional – Reliable