There are currently 3.04 trillion trees and 7.2 billion people on Earth. Theoretically, this means that each person would have to take care of 422 trees, assuming they were all arborists. But, who takes care of trees in other countries? How do other arborists work in other parts of the world? What rules and regulations do they have to follow? What dangerous animals and plants are there? We want to answer all these questions in the new series "Arboriculture around the World".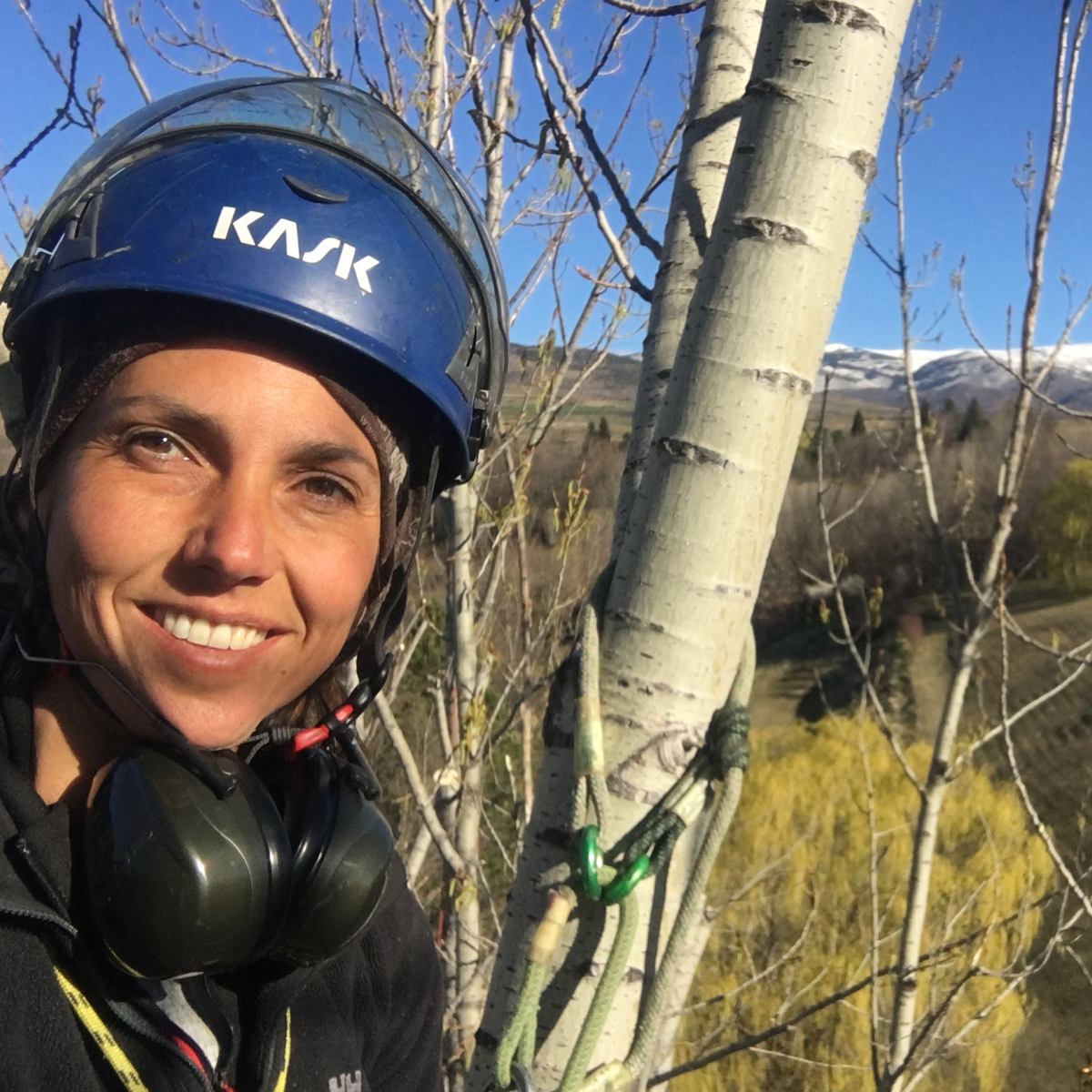 In addition to the parliamentary hereditary monarchy with King Felipe VI, the country is mainly known for tourism and is the country with the second most visitors in the world after France. World-famous soccer clubs such as Valencia FC, Barcelona FC, Seville FC and of course "the royals" or "the galactics" or Real Madrid for short certainly contribute to this. But Spain offers much more than a king and the world sport soccer. On the coasts in the north and south, beaches, the sea, the smell of fresh paella, the party miles of Mallorca and in the northeast of the country on the border with France, the snow-covered Pyrenees, in which you can go skiing.
But there are arborists in Spain as well. We were fortunate that Haya Villar Lisson found the time to answer our questions during an interview, giving us the opportunity to learn more about the arborist scene in Spain.
Haya, where did you grow up and where do you work now?
I grew up in the countryside, in a small house in the middle of the forest, near Tarragona, Spain. And now I work in Barcelona and the surrounding area.
In Germany, there are several options, to become an arborist. How does arborist training work in your country? Is a specific school education or degree required here?
Arborist is not yet a very recognized profession in Spain, there are only a couple of official places (one in Madrid, one in Barcelona) where you can do a long and comprehensive training with theoretical and practical classes, which takes about 5-6 months of full-time teaching. There is also the AEA (Asociación Española de Arboricultura) that offers short specific trainings on arboriculture. The first arborists in the country are now about 50 years old, having started 30 years ago, which says a lot about how young this industry and the knowledge of it is.
How long have you been in tree care? How did you get into arboriculture? And did you always want to be an arborist?
I started working in arboriculture in 2016. Before that, I worked in the television and cinema industry as a camerawoman and video editor; I was happy there for 11 years, but suddenly I missed the contact with nature that was part of my roots. On my 36th birthday, I decided to start a new life and return to nature and the forest. I felt a very strong call inside me, the call of the wilderness. Perhaps my name was also a sign that marked me: Haya means beach tree in Spanish: Fagus sylvatica.
Our followers on Facebook and Instagram are very clearly divided. 90% are male, 10% are female. What do you think is the distribution between male and female arborists in your country?
I don't know exactly what the number of male and female arborists is, but I can say that I am mainly surrounded by men in my daily work. Only on very few occasions do I go to other regions of my country to work with other female arborists. Unfortunately, the reality of work is also that clients usually prefer to choose a man to climb their trees. In Spain there are only 4 women certified ETW and 114 men certified ETW, so only 3.4% of certified arborists in Spain are women. I am one of them. I would be happy if more women came into this industry. For example, in the Spanish tree climbing championships, only 10% are women. But it's not a very representative place for the professional reality. I am a tree climber and I have never participated in the championships. I don't enjoy working under pressure and in a hurry.
How would you describe the cohesion of arborists in your country? How are you connected to the international community?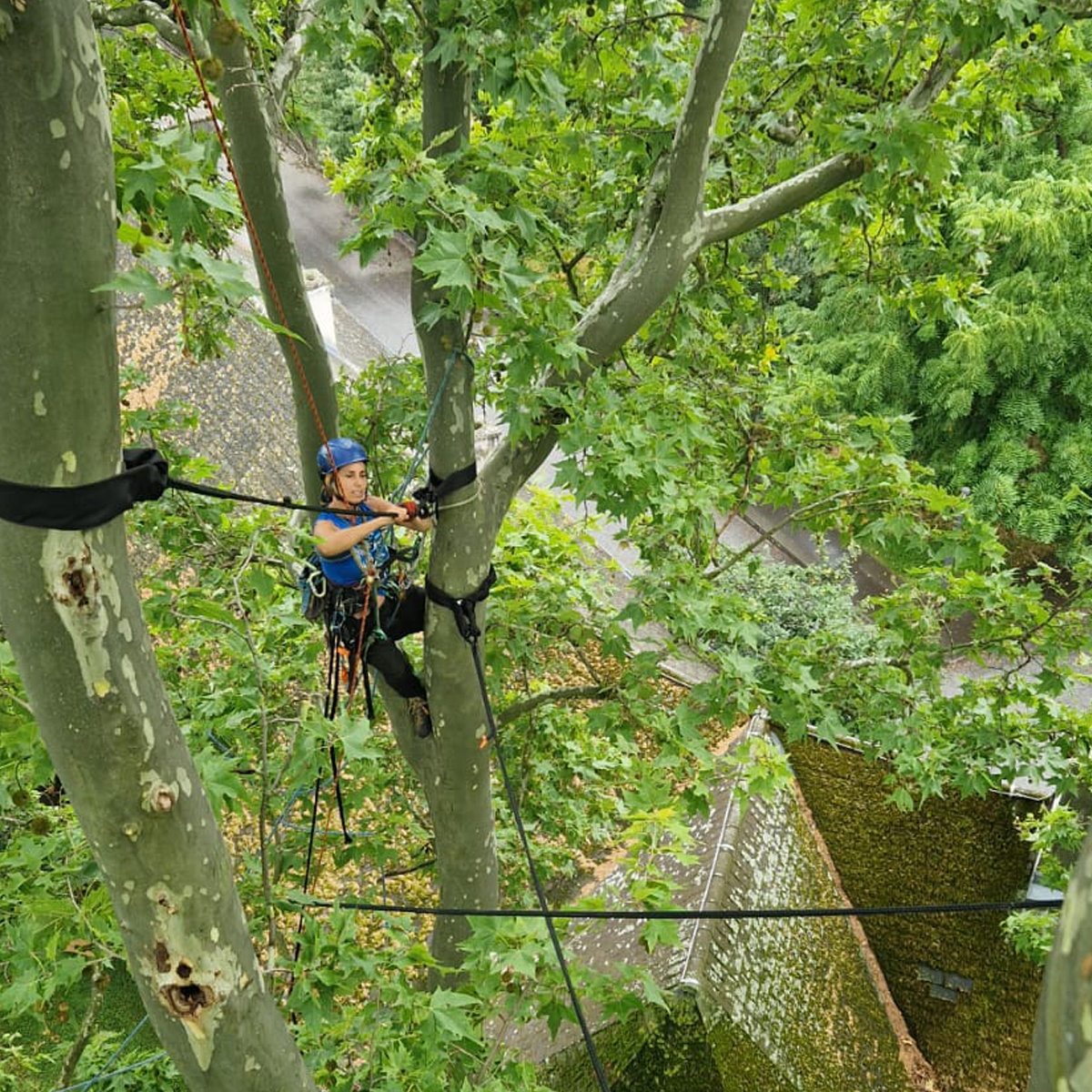 Well, there's a segment of arborists who like to get together once a year at Championchip and the annual Tree Congress to catch up on industry news and get new information about trees and tools each year; and there's another segment of arborists who do their work in their own businesses but aren't involved in the "arborist family." I'm a little in between. But I like to go abroad and work in different areas of my country and also in Europe to see other ways of working. So far, I've only been to France and Germany, and I've enjoyed the experiences.
Can you imagine working abroad? If yes, where? If no, why not? Or do you already have experience in this area?
Since I started tree care in 2016, I go to Munich every year (about 6/7 weeks) to work there and see a different tree care. I like how they treat trees and how they respect them. Compared to Spain, we live in German cities with many and bigger trees than Spain combined. Many of the clients I have in Spain don't like trees in their gardens because they are afraid or bothered by the leaves or the shade a tree provides.
Now to the technical questions.
Which devices do you use? Do you import equipment or are there also local manufacturers?
My harness is from Treemotion, my ropes are from Courant, Teufelberger, FTC, my helmet is from Kask, my pants are from Pfanner, my boots are from ArbPro and Salewa and my chainsaws are from Stihl. So none of that was made in Spain. Only my bones and my meat are Spanish and not even there I am 100 percent sure.
What kind of regulations – for equipment – are there in Spain? How strictly are they followed and controlled?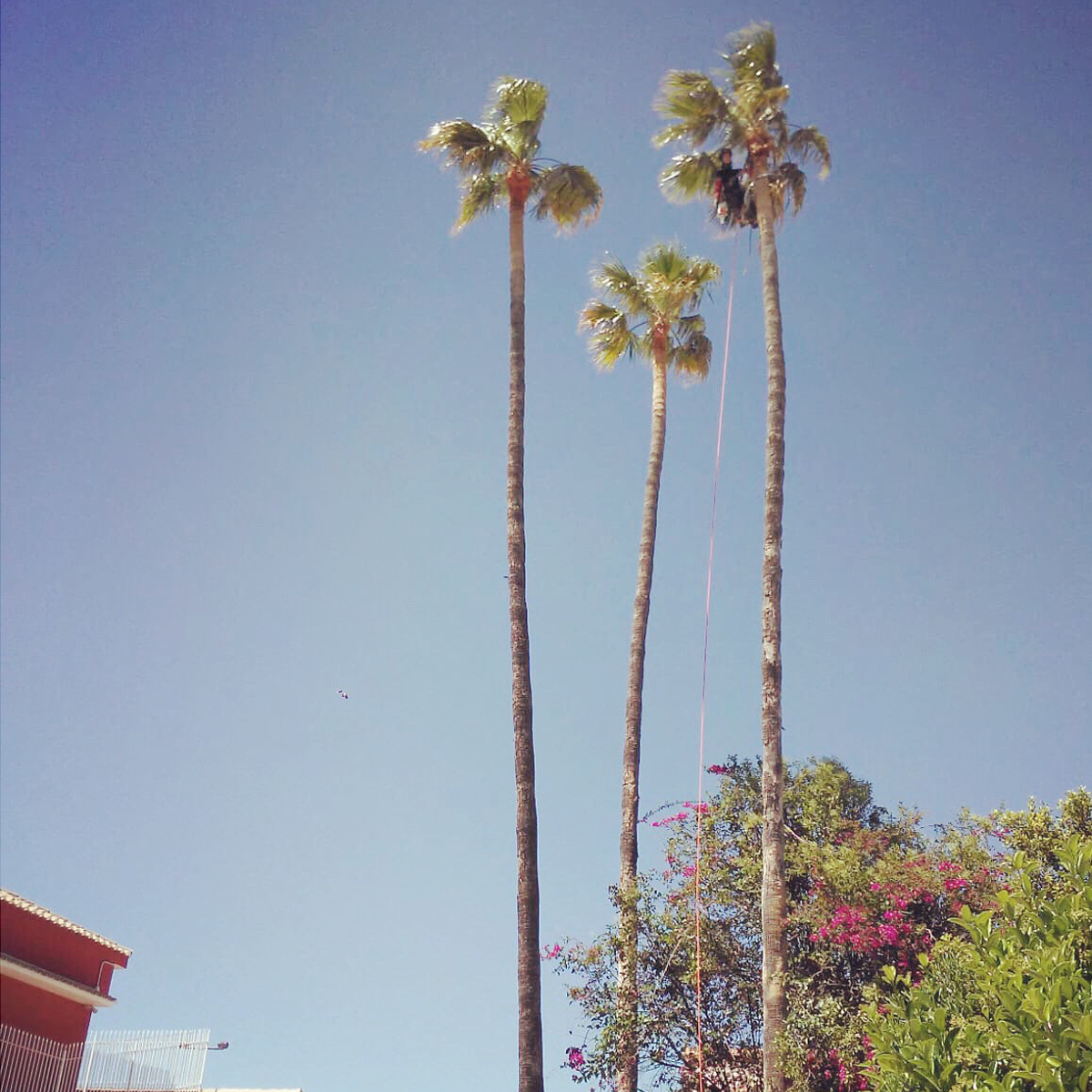 As arborists we must follow the same regulations as any vertical worker, and all our material must have passed a safety inspection and have a CE number, otherwise in the event of an accident can cause many problems. Most of the time, certain customers don't require the professional to have a certificate to confirm his knowledge, but in the official places you have to prove that you have all your certificates (risk prevention, chainsaw certificate, ETW, liability insurance, etc.). Sometimes there are work inspections to check if you are doing your work in all these conditions.
Do you climb SRT or DRT? Or both in combination?
I climb both in combination, it depends on the work I have to do each time.
What's your preferred rope device or clamp knot?
I use the friction knot on my side rope and SRT, and a zigzag rope for my double rope. Sometimes when I climb a lot of fir trees, the resin interferes with the clutch and can be annoying.
What is your favorite tool or product?
All of them in a good combination are useful! When I have a choice, I always go for the less demanding solutions.
The USA is known for its sequoias, Japan for its cherry blossoms. Which tree is special to your country and what is your favorite?
In my area Pinus halepensis and Pinus pinea are the most typical trees, because we live in the Mediterranean region. But I prefer the forests of continental climate, like Fagus, oaks, Fraxinus, Alnus, Betula. It's hard to choose just one tree, because I love them all, but Fagus Sylvatica has something magical, magnificent, it takes my breath away.
Canada has bears, India has tigers, Germany has the Oak processionary moth and Australia has many poisonous and dangerous animals. What is the most dangerous animal in the tree or in the environment that could get in your way?
There are no very dangerous animals in Spain, but if you get stung in the face or neck by an Asian wasp, you better run to the hospital or have an adrenaline shot nearby.
In Germany, some species of flora and fauna are protected. Do you also have species to watch out for or do you protect things in your own way?
We try not to cut trees in the breeding season. Some birds are specially protected, like birds of prey or turtle doves, or some plants that must not be killed: ruscus aculeatus, illex aquifolium. I don't know all of them, but I always try to be as respectful as possible with animals and plants in my work. Even if sometimes the clients ask me to do things that are not very beneficial to nature: for example, putting spikes against birds on the branches or removing nests of Argentine parrots from the trees (there are thousands of them in the trees and they are very heavy (50kg)).
In Germany, the peak season for tree pruning starts in April. In which period or at which time of the year is the peak season for tree care for you?
It is in winter, from November to March.
Depending on the country, there are different seasons or dry and rainy seasons. What was the most extreme weather situation you worked in? Heat? Ice? Rain? Storm?
The winter in Spain is very mild and friendly, on the contrary, from April to September the temperatures rise so much that it can be very tiring to work with the chainsaw at 35 or 40 degrees. That is why I prefer to work in cold weather. In my country it doesn't rain that often, which is great for the trees, but not so much for the work. When I go to Munich in winter, it's a bit difficult to use my hands when the temperature is below zero, but I get used to it.
In some countries it is not so easy to call an ambulance quickly. How quickly would an emergency rescue service reach you if you needed one?
It depends on whether you are close to a hospital or very far away. But we have quite effective emergency services in Spain.
What role do local governments and communities play in promoting and supporting tree care in your home country?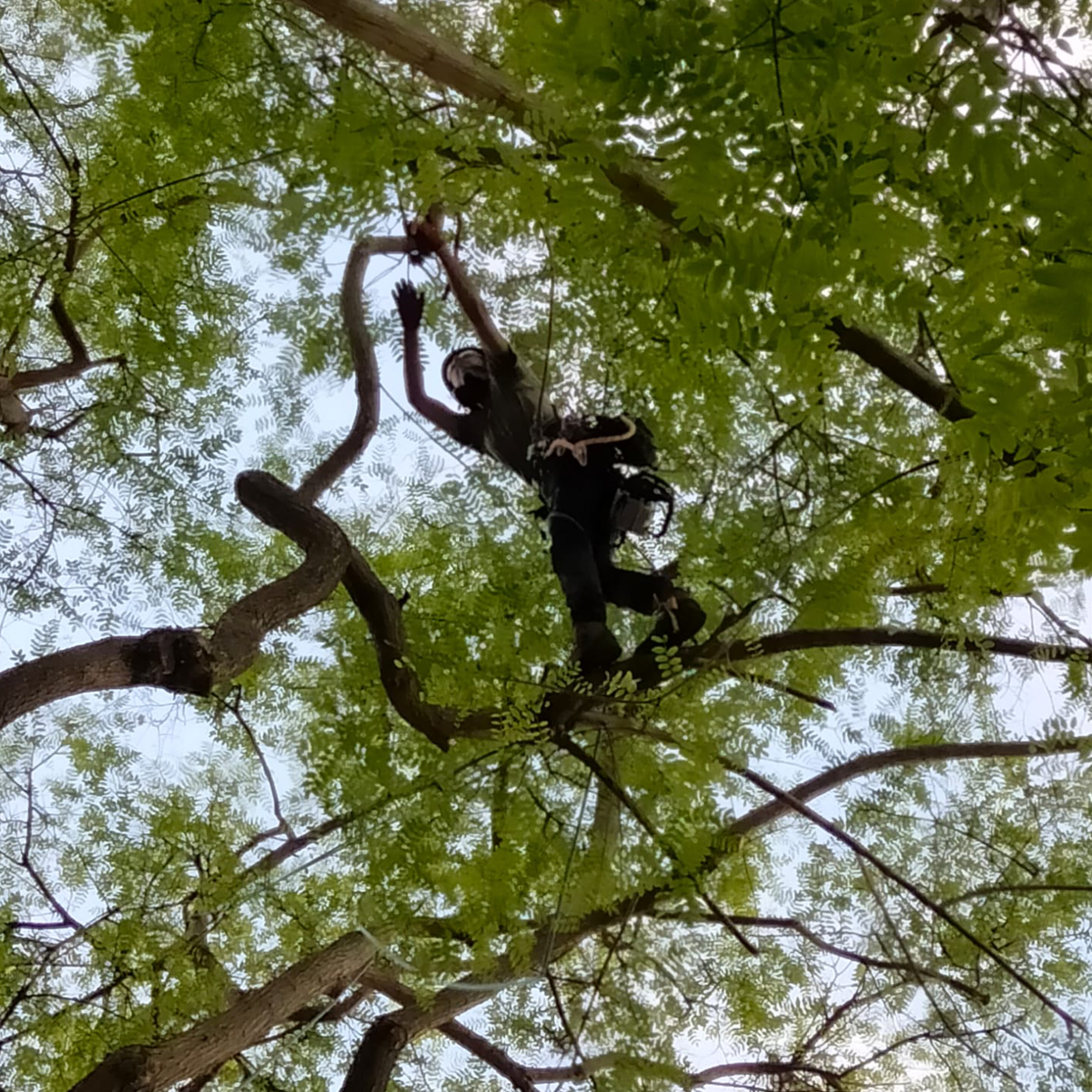 There are laws governing permission to cut trees, but nothing is monitored when it comes to tree trimming. There should be more oversight and education regarding tree trimming. There are a lot of bad practices in tree pruning (many tree tops are topped, lopped, or very large branches are removed).
What are the future prospects for tree care in your home country and what can be done to maintain and promote the health and beauty of trees?
In the wake of climate change, politicians are trying to be "greener" and make cities more natural, but this is sometimes just an image to win votes.
To have healthy urban arboriculture, some things would have to change from the ground up: In my opinion, most of the problems with tree health come from the nursery: trees that are too big with very damaged and bad roots. The second step and the second problem that arises is the choice of where to plant the tree: We should all have a long-term vision before deciding to plant a tree. The right tree in the right place.
And thirdly, the less we prune a tree, the happier and healthier it will be. We must try to leave the trees in their natural form and prune them as little as possible.
I think governments can save a lot of money on tree care by just following these three basic steps.
And the last question. What was your most spectacular or beautiful day at work that you will never forget?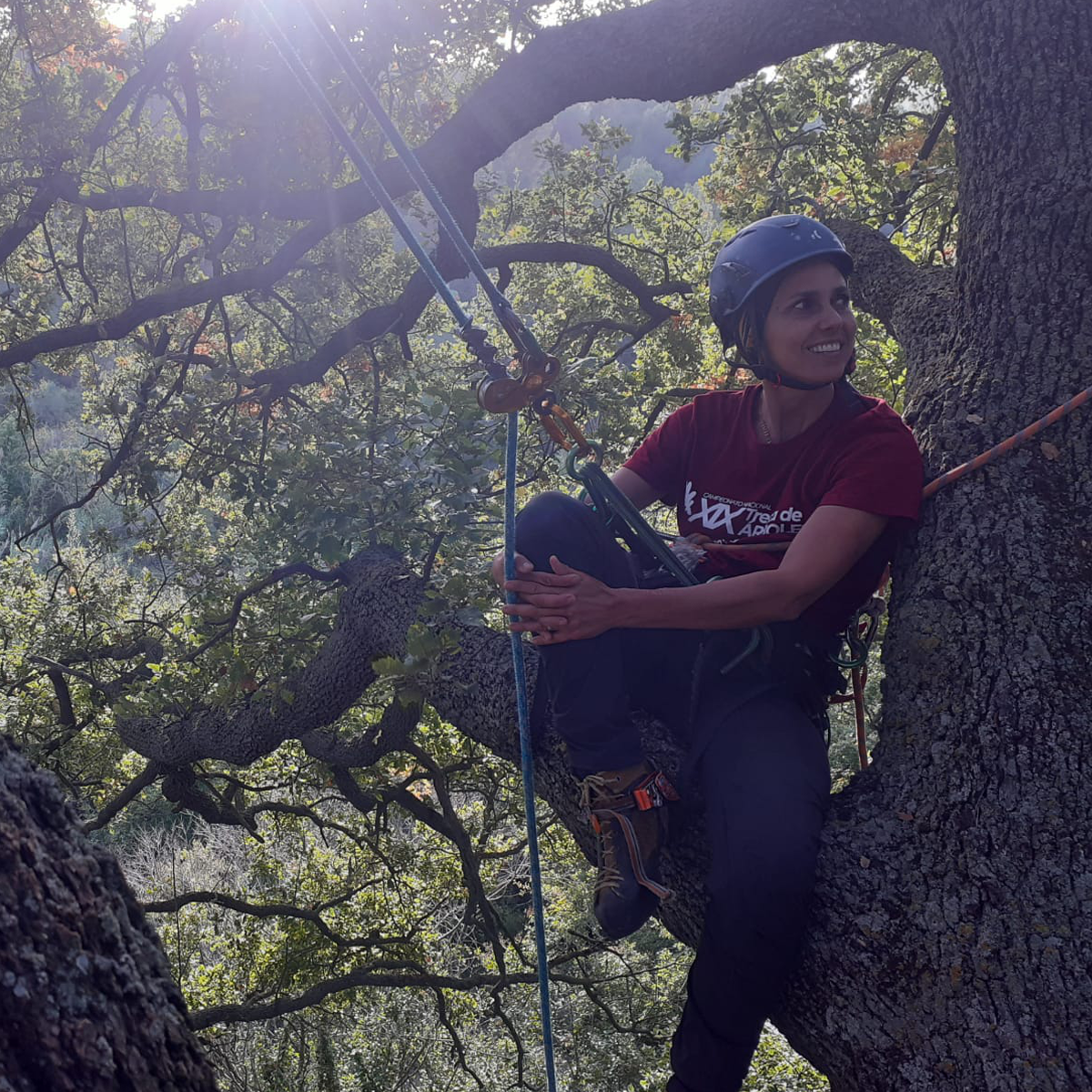 Every time I am up in the tree or in the crown and suddenly hear the fresh wind shaking the leaves and caressing my face, I feel like a privileged person and happy to be here now.
Haya, that's it for the interview. At this point, thank you again for this great opportunity and your participation. It's incredible how different the scene already is in a few thousand kilometers. Stay healthy and keep having fun at work. If you want to know more about Haya and the arboriculture scene in Spain, you are welcome to visit her Instagram channel.
In the next article we travel to the southern hemisphere of the earth and turn everything upside down. Well-known cities of our destination are Melbourne, Perth, Sydney and the capital Canberra. The country is called Australia and is also known worldwide as "Down Under". Until then, climb up safe!
---
Freeworker, your specialized dealer for tree care and rope climbing techniques!
Fast – Competent – Reliable