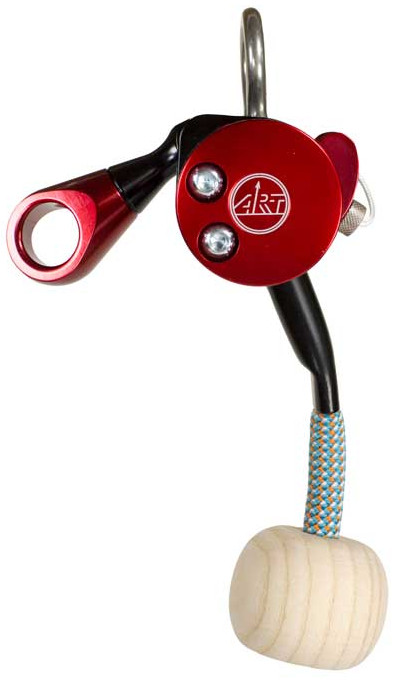 In 1998 it was a revolution. In 2001 it was completey remodelled and today it's a device that many tree care experts don't want to be without! By inventing the LockJack, Hubert Kowalewski has made a great impact on the development of tree climbing technology. The LockJack has become a comfortable, efficient and easy to handle device for tree climbers all over the world.
The LockJack offers every climber, beginner or pro, a safe, dynamic and energy saving climbing experience. Using footlock technique or foot ascenders the LockJack always allows for an elegant ascent on the climbing line or along the stem. In the canopy a one-handed pull on the rope is enough to manage a permanently tight rope. While ascending on a rope that isn't under load, climbers can feed the rope through the rope duct easily with one hand.
An unbeatable team with the RopeGuide
The RopeGuide tightens at the anchor point under its own weight when climbing above 15 metres, proving how smoothly the rope runs through the LockJack and still locking automatically and safely under stress. Equipped with an ART Swivel the LockJack manages for rope and body rotations, increasing climbing comfort considerably.
The RopeGuide and LockJack combination has greatly contributed to establishing an efficient and safe climbing style in recent years. Today using a reach over climbing system during ascent has become standard. The long twin-versions "Steel" and "Dyneema" (from the body thrust era) have been rendered redundant and are not offered anymore.
The LockJack is approved for abseiling with two persons.
LockJack features:
patented
multifunctional ascent and repelling device for the running double rope
approved for abseiling with two persons
certified according to EN 358
for textile ropes EN 1891 from Ø 11–13 mm
the device can be installed on the climbing line without any threading
body and parts are made of aluminium machined in the solid
all worn parts can be exchanged
service life: 5 years
tested with 15 kN/3 Min.
breaking strength: ca. 28 kN
weight: ca. 310 g