You got your own look? Your company has its own design with logo? No problem! Our experienced and creative Freeworker team will design your individual Protos® Integral according to your wishes. Of course, there are some guidelines to consider so that the helmet continues to meet the standards. But with these eight simple steps it will work with your dream helmet in individual design from our Protos® Integral Customer Edition!
Eight Steps to your Individual-Protos!

You choose a Protos® Integral in your desired configuration (Industry / Climber / Forest / Climber Arborist / Climber Arborist) and in a suitable base color.
---

You contact our customer service (+49 (0) 8105 – 730 60 253 or info[at]freeworker.com) and let us know your ideas and wishes. We will be happy to advise you if you are not sure about some details.
---

You send us your data (logo, images, etc.) in a sufficient quality (preferably vector data or high-resolution image data) by e-mail.
---

Our graphic designers create an individual design according to your wishes and with your data, which fits to your selected Protos® Integral.
---

You will be sent the design of your individual Protos® Integral Customer Edition by us and will release it for printing.
---

We get the coordinated design printed and stick it on the helmet.
---

About three weeks after the approval of the print your desired Protos® Integral is ready and will be sent to you.
---

Now all you have to do is unpack the helmet from the Protos® Integral Customer Edition, put it on and "bear" the envious looks of your colleagues!
---
A few examples
And the costs?
The price for your individual Protos® Integral depends entirely on your wishes and the effort for the design. It is calculated from the basic price of the helmet, the printing costs for the sticker and the costs for the design by our graphics department (75 € per working hour). For every single project we have to recalculate the price. Since the costs for the graphics are only incurred once, the more helmets your project includes, the lower the individualisation costs per helmet.
Can I get a matching visor?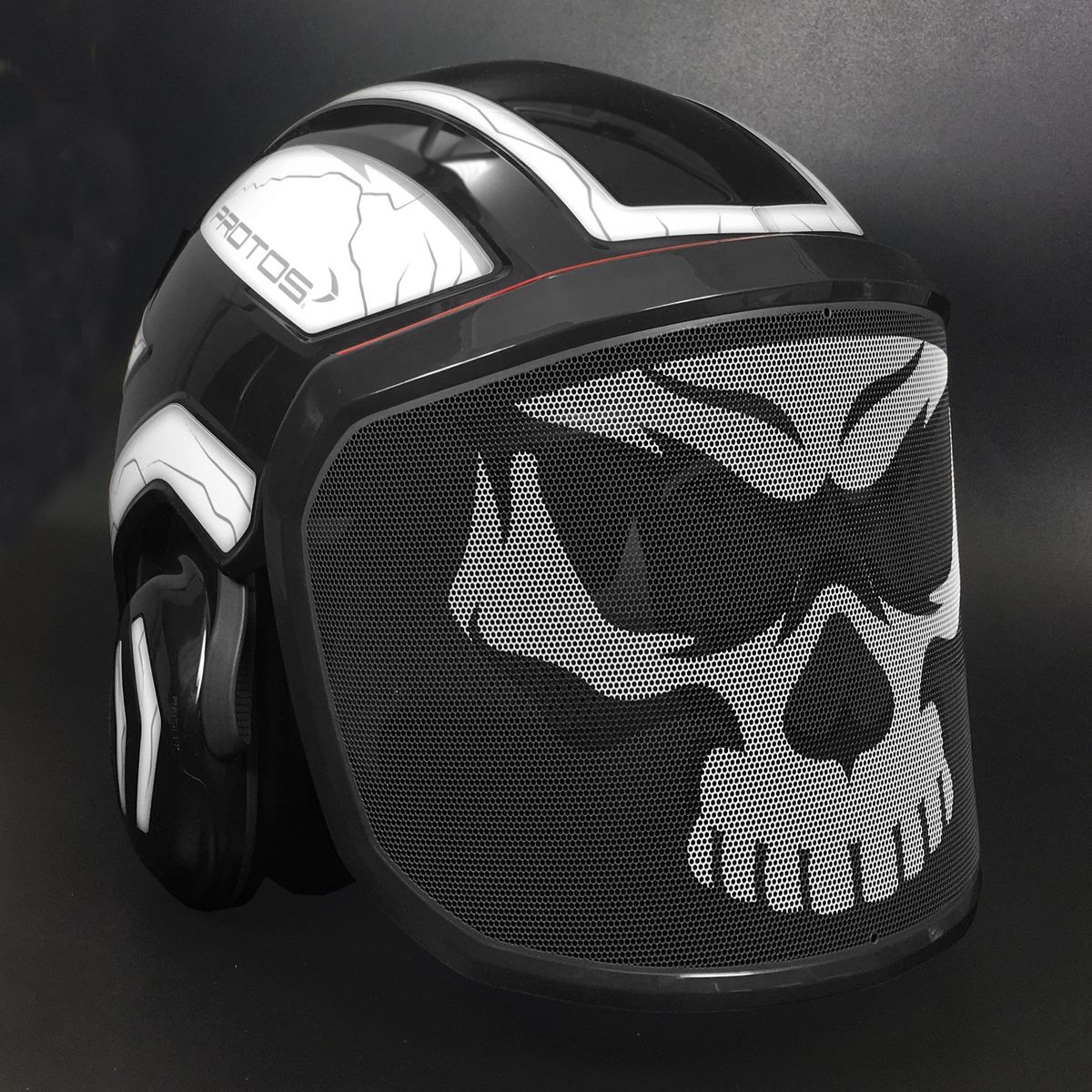 A matching visor in the design of your individual Protos® Integral finalizes the look of your helmet. The Protos® Visor F39 (fine) can be printed. The delivery time of an individually printed visor can take up to four weeks and you must expect additional costs for the individual printing of your visor (maximum approx. 30 €). The more visors your order includes, the cheaper are the printing costs. If you want an individual print, please let us know when you tell us your ideas and wishes for an individual Protos® Integral. Our graphics team will take this into account when customizing your helmet and you can already see in the design proposals what your helmet including visor will look like!
Of course you can order your individually printed visor separately, too.
Unique and exclusive – Our Protos® Integral special editions
Unique Protos® Integral designs that stand out on any worksite are also available in our shop ready for delivery. A complete exciting look including matching visor from our in-house designers. Just choose your helmet and accessories and add them to your shopping cart!
Extraordinary and exclusive – The Protos Special Edition
The designs from the Freeworker Protos® Integral Special-Edition add a very special touch to the popular Protos® Integral helmet. Whether Protos® Integral Forest, Climber, Arborist, Arborist Climber or Industry, Freeworker's unique designs fit all Protos® basic models. With the handy Freeworker Protos®-Designer, everyone can test in advance what their favourite Protos® combination looks like.
---
Freeworker, Equipment for Tree Care and Rope Technology
Quick – Professional – Reliable