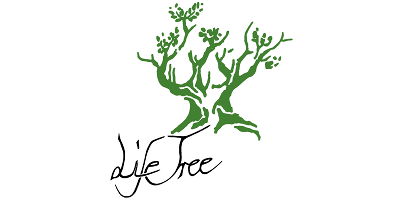 In 2009 two guys from Augsburg, Martin Benedek and Manuel Sanktjohanser, had the idea to combine fashion and ecological awareness. In 2010 the time had come and the company Life-Tree was born. The aim of the small local label from Augsburg is to live a green and healthy lifestyle with social responsibility and to give the drawings of Martin Benedek a space.
Martin is an artist and has a passion for trees. No wonder, therefore, that he has devoted himself entirely to botany – and (almost) exclusively draws trees. He is the creative head of the Life-Tree Team. Manuel takes over the management of the constantly growing company.
We met with them on site in Augsburg in their little shop and asked some questions.
Freeworker: In 2010 you have founded the company. You already had the idea for Life-Tree in 2009, but what exactly is the idea behind your T-shirt label?
Martin: I think the first idea was simply to print trees on T-shirts.
Manuel: Exactly! "Put the trees on T-shirts", was the first idea of a friend of mine. A fair eco-label was the result of dealing with the subject: Where do the T-shirts come from? What is done with the T-shirts? Which T-shirts and which qualities are available? So the path to what it is now has been slowly mapped out.
As far as we understand, the original idea was born in a relaxed atmosphere with friends? You were sitting together, the topic came up randomly and then suddenly the idea was born?
Martin: Yes, we talked about my drawings and the fact that I paint so many trees. And then the question arose what's the best way to spread this amongst people. This is how we describe our concern to our customers: How do we bring trees to people without being too intrusive or just hanging them in some exhibition? Because ten years ago I didn't feel like presenting my drawings in exhibitions.
So the question was: How do we combine this with an everyday object in such a way that the tree is still in focus? From this thought we finally came up with the T-shirt. That it developed to what it is now, has been developped – as Manuel already mentioned – year by year.
So Life-Tree was an idea among friends. But how did you two actually meet – and then went from friends to business partners?
Martin: We have been friends for over 15 years now. We met at a youth camp. This developed into a friendship. After a mutual friend had the idea for Life-Tree for the first time, the two of us took it up again a few weeks later. And as it is in a relaxed atmosphere, Manu said: "Oh come on, we will do this! I'm your manager." At first it was just a joke. He put it this way: "Look, I'm your manager. You paint the trees – I manage the whole thing." And then it sort of evolved.
Manuel: I had some time then, too. I can't remember exactly. But it might have been between civil service and a stay abroad or some training. Between two stages of life. I had about half a year. And my plans for the future were not yet so advanced that I knew what I would be doing in six months.
So, I said: "Let's start a T-shirt label." This management thing was more of a learning-by-doing for me. It all started out very small: Where do we even get T-shirts? I started looking for manufacturers. Then I looked for a printing company. Then followed the business registration and so on. Just the first small steps.
So it all started with the company. But everything has begun much earlier with your drawings. Where does your passion for trees come from, Martin?
Martin: A question I get asked quite often. This passion has developed a lot. At first it was just a way of painting and drawing that I liked – a good balance to my pedagogical work. I love to get into these ramifications and into these forms. This is very reassuring for me.
First of all, you were fascinated by the pure stylistic idiom of trees?
Martin: Absolutely! And this has developed over the last 12 years – and of course with the foundation of Life-Tree. It has become more and more my own theme. The tree symbolises a lot to me in any form and has become my means of expression.
This would explain the one important part of Life-Tree, the tree. Let's get to the second essential part: the T-shirts. Where do your garments come from?
Manuel: Our small label is dependent on manufacturers who deliver decent quality. If we had to produce the shirts ourselves, we could not do it alone. That's why we chose two larger manufacturers who offer the quality we value. Our T-shirts are characterized by the organic cotton that is used and by fair trade. This aspect is very important and reasonable for us.
Our two manufacturers are well known and have a certain experience in the field of textile production. In addition, our small label has been around for ten years now. And experience shows that our clothing keeps its promises. We have built up a regular clientele at Tollwood and elsewhere. And they confirm this again and again. Besides, we actually have few returns. And that, of course, contributes to sustainability.
Furthermore, a certain size means that the producer employs its own local people in the countries of production. Turkey, India and Bangladesh are the three main places where the manufacturers produce – depending on the materials they use for the shirts and sweaters. One of our manufacturers, for example, has five local people in Bangladesh and its own production line within the factory. This means that they determine the working conditions and wages of the workers themselves. Just for information: Even really big manufacturers only have their own lines within a factory – no local factory.
You have already mentioned the social aspect. How do you make sure that the manufacturers meet your high social and environmental standards?
Manuel: Both our manufacturers are members of the Fair Wear Foundation. This means that we receive social reports every year. There we read about the conditions under which our manufacturers produce in the production countries. We also receive pictures, videos and further information about the working environment on site.
Both manufacturers have the leader status at Fair Wear. This is based on points awarded for certain social criteria. The social reports show what is already being done locally, what is not being done and what still needs to be done. The leader status means a high, positive rating in the social reports.
The ecological aspect is ensured by the organic cotton. The certified organic cotton used by our manufacturers is grown without chemicals and genetically modified organisms. In addition, it is then processed in a strictly ecological way, e. g. for dyeing. The finished T-shirt is free of foreign substances and toxins. This enables an optimal wearing comfort without skin irritations. The high standards in the processing of ring-spun and combed cotton also contribute to the wearing experience and durability.
One last question remains: How does the artwork end up on the T-shirt?
Martin: The short answer is, by screen printing (laughing). Or sometimes by a small embroidery – in this case we work together with a company in Landsberg.
We ourselves cannot print: We're not printing professionals, and we don't have professional machines to put these little delicate ramifications on our T-shirts. Therefore we need real experts. With Siebdruck Ketzler from Königsbrunn (near Augsburg) we have actually been working together for almost ten years. There we have the possibility to be present at every print. Sometimes we even take the T-shirts off the plates ourselves.
Manuel: We do the assistant duties (laughing).
Martin: Especially with new motifs we like to be on site and help. When an old motif is reprinted, the print shop now knows us well enough to make it work on its own. We are really very satisfied with the good cooperation. In addition, the print shop is run by a married couple – a family business, which we like very much.
At the end there is still time for a little self-promotion. Where can the tree friend buy your Life-Tree T-shirts – besides from Freeworker?
Manuel: We have our own online shop. Otherwise we are regularly on the road at festivals: We have been on the Tollwood in Munich and the Uferlos in Freising since the beginning.
Martin: And then, of course, we have our little shop here in the centre of Augsburg.
Manuel: Right, our little shop that we're in right now (laughing). This is more like a showroom. The goal is not to be a classic retail store with a large throughput. But it is our little gem.
Thank you very much for your time and good luck for the future!
More articles on the Freeworker blog
---
Freeworker, Equipment for Tree Care and Rope Technology
Fast – Professional – Reliable