From Klewe, to the European Championship in Brussels, to Copenhagen in Denmark. This is the tour for the best tree climbers this year. Why Copenhagen? The Danish capital, after a two-year break from Corona, is the host for this year's World Tree Climbing Championships.
For the first time ever, since the Women's World Cup began in 2001, a World Cup will be held on European soil. The first German title? 2001! In the very first year of the Women's World Championships, Christina Engel secured the world title in tree climbing. Since then, several European women have won the title, but there have been no further titles for German competitors. Will this year's participants have a chance to enter the Hall of Fame of tree climbing? We will find out from September 9 to 11.
But who are the german candidates? What do they do in their free time? What equipment do they climb with? Who were our participants in Brussels? And could there be a third German title after Bernd Strasser and Christina Engel? We will be able to answer these questions in the next 5 weeks.
Today we present Eva-Maria Mauz. She reached the 3rd place at the German Championship and even won the Czech Championship as a guest. Due to the fact that Lisa Schuchhardt did not compete at the European Championships, Eva Maria slipped in as a starter and was therefore also allowed to compete in Brussels.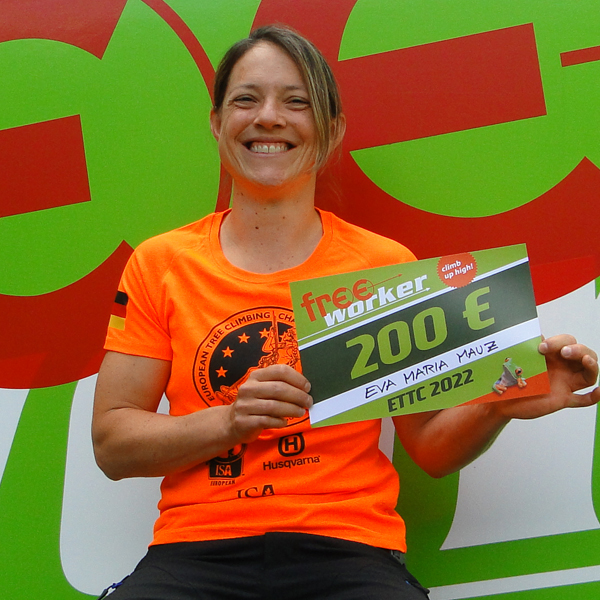 How did you get into tree climbing?
I'm actually a civil engineer, but in my late 20s, the realization hit me that I'm totally unsuited for an office job. After an intensive search, I came across tree care. At first I worked in an expert's office, tree statics was the interface here. Since 2014, I am self-employed and full-time climbing. In the beginning, my fear of heights hindered me a lot, but bit by bit I got it under control. In the meantime, I only feel a little queasy in strong winds.
What do you do in your free time?
My favorite way to spend time is out in nature, especially on foot with my hiking backpack. Long-distance hiking trails are the greatest thing for me. There's nothing better than walking through the wilderness for months on end and enjoying the peace and quiet far from civilization. For example, I've walked from Canada to Mexico and once lengthwise through New Zealand. When I'm not hiking, I often spend my free time in the tree anyway. And I play guitar and ride mountain bikes, formerly BMX, and do a lot of yoga and Pilates.
What equipment do you use for climbing?
As a Teufelberger Ambassador, I naturally use their harnesses and ropes and actively participate in product development there. I really enjoy that and it's a nice task to bring in ideas from everyday work and to tinker. However, my absolute favorite climbing device is not from Teufelberger, but the Akimbo from Rock Exotica. Since I've been using it, my climbing style and technique have really improved and become more efficient, easier on the body and more energy-efficient. Fortunately, the Akimbo harmonizes wonderfully with the Teufelberger Fly and the Tachyon. The fact that the new Treemotion is now finally available in a smaller size is also an absolute game changer for me. My spine and hips are totally in luck!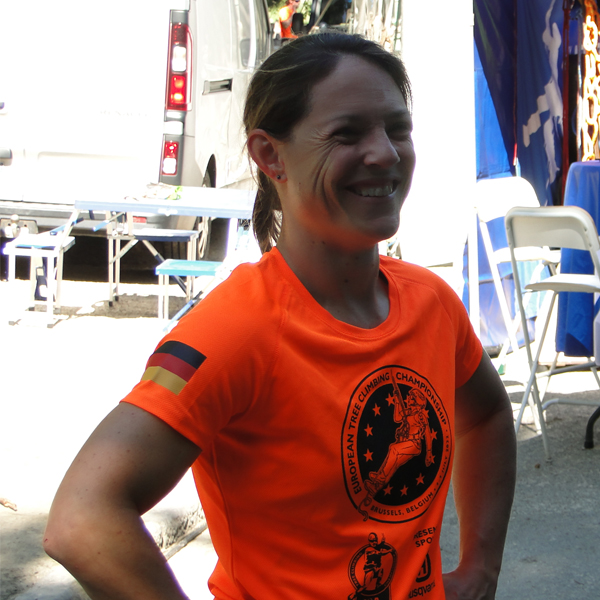 What are your favorite disciplines?
Earlier it was Footlock and Speedclimb. There I had a lot of strength and little technique. That changed a lot as the number of physical limitations increased. Today it is rescue and recently also workclimb. With the latter, I used to have problems running out of time, but since I've been climbing Singlerope, that's no longer an issue.
In Brussels Eva Maria achieved a strong 5th place at the European Championships. Unfortunately, this was just not enough to qualify for the Masters and the World Championship in Copenhagen. But we are sure that this was not the last European Championship for Eva-Maria.
---
Freeworker, Equipment for Tree Care and Rope Technology
Fast – Professional – Reliable